WHAT IS BREEDPLAN?
The Australian Brahman Breeders' Association (ABBA) and the National Beef Recording Scheme (NBRS) have developed the integrated pedigree and performance recording system – BRAHMAN BREEDPLAN.
Brahman breeders can record the performance of animals in their herd for important growth, fertility and carcase traits. This information is recorded with the animals' pedigree details. BREEDPLAN then combines the pedigree and performance information to estimate the breeding potential or genetic merit of each animal in the herd for these performance traits. The breeding potential of each animal is reported as an Estimated Breeding Value (or EBV) for each trait.
BREEDPLAN is a genetic evaluation system for beef cattle and uses Best Linear Unbiased Prediction (BLUP) technology to produce Estimated Breeding Values (EBVs) for cattle for a range of important production traits. In particular, BREEDPLAN offers bull breeders the potential to accelerate genetic progress in their herds, and to provide objective information on stock they sell to commercial breeders.
Included in the calculation of EBVs are the pedigree, performance and genomic information from the own performance, the performance of known relatives, the heritability of each trait and the relationship between the different traits. a world class genetic evaluation model, combining all traits in one analysis. The link below is an Introduction to BREEDPLAN Analysis:
THE BRAHMAN BREEDPLAN ANALYSIS
The outcome of a BREEDPLAN analysis is Estimated Breeding Values (EBV's) of recorded cattle for a range of traits.
For Brahman, information on some or all of the following traits may be gathered:
Growth EBVs
Fertility & Birth EBVs
Carcase EBVs
Other EBVs
Selection Indexes
Birth Weight
200 Day Growth
400 Day Weight
600 Day Weight
Milk (Maternal)
Mature Cow Weight
Scrotal Size
Days to Calving
Gestation Length
Percent Normal Sperm
Carcase Weight
Eye Muscle Area
Rib Fat
Rump Fat
Retail Beef Yield
Intramuscular Fat
Shear Force
Flight Time
Central Production
Live Export
EBV's express the difference between an individual animals genetic merit and the base population to which the animals is compared too.
The Brahman BREEDPLAN analysis is conducted monthly, with member data submissions due on the 28th of each month. The Table below is the Performance Recording Timetable to download a PDF for the Performance Recording Timetable click here.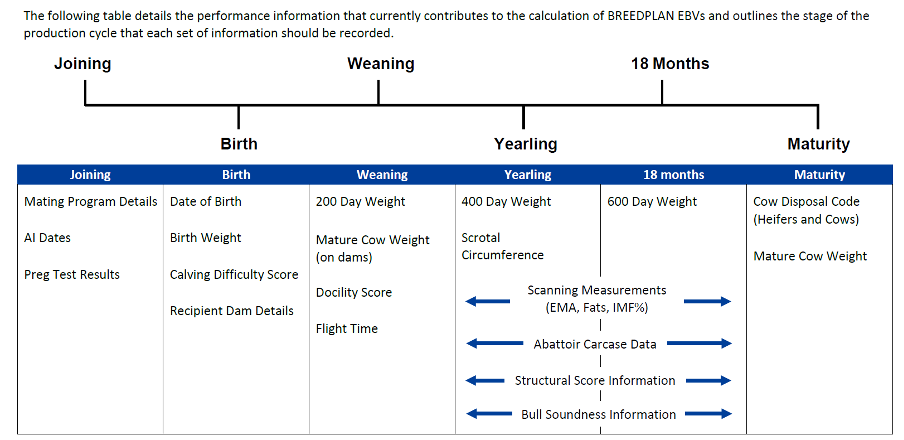 Below is a link to A Guide to Performance Recording explaining the process in measure each trait.
GROUP HERD REPORTS
Following the running of the Brahman GROUP BREEDPLAN analysis, a herd report will be in the members' download area of Brahman BREEDPLAN who have submitted weights during the previous month. It includes EBVs for all calves (born in recent years) that have been performance recorded in your herd and their sires and dams.
It also provides genetic trend tables for the breed and for the individual herd. The trend tables enable the breeder to compare the current genetic level of his herd with the breed average for each trait. A percentile band table is also provided. This report allows the breeder to identify the relative ranking of animals within the breed.